Logistics and Warehousing
We currently operate our warehousing activities on 16.500 m2 logistics space for our customers.
---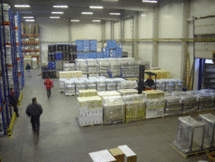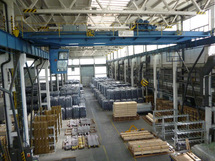 We offer warehouses as follows:
Standard warehouse
temperature controlled warehouse
public bonded warehouse 
We store your goods in blocks , in racking systems for pallets or cartons. We supply forklift trucks up to 3,5 tons and crane off loading up to 12,5 tons.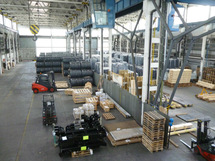 We provide value added services such as handling of over-sized-pallets, pick and pack and smaller assembling and production services. We also provide packaging , production of packing material, lables etc.We pack and palletize your goods. We store them and control them in our warehouse managing system and use the FIFO princip.
We offer taylor made complex logistics solutions.All our warehouse locations are close to the motorways.
Distributionsystem daily pick up of groupage and parcel shipments. Distribution of groupage and parcel shipments in the Czech Republic and Slovakia within 24 hours. We provide also cash on delivery service.
Transport of standard shipments is provided by means of the Domestic Transportation systems in the transport network of the Geis group
Sea transport and air service, we provide sea freight and air freight all over the world "door to door"
Air freight:
Groupage transport and Charter transport
Customs services
Sea freight:
LCL and FCL shipments
Container storing
off loading
Customs services
Sea freight packaging
Project and over sized transports:
route conception
providing of special escorts and needed permissions for the transport route,
Organizing and providing of the necessary modifications on the route due to traffic capacity
projects realization
multimodal transportation. 
We have to our disposal special vehicles fleet:
plateau
lowdeck with loading capacity of 24, 26,28 t
axles with so-called swan´s neck,
Spreadable telescopic trailers,
drive-up ramps